Own real estate near Sapphire Valley Ski Resort

Experience the magic of Cashiers during wintertime
When the summer heat gets to be too much, city dwellers in Atlanta, Greenville, and Charlotte have long been drawn to Western North Carolina's coveted Highlands-Cashiers Plateau. But what some have yet to discover is that wintertime is just as glorious and inviting. There's a stark beauty and idyllic peace to this picturesque region during the winter months. It reveals itself in subtle ways: a perfect mantle of snow draping a hillside…ethereal chimney smoke wafting from a well-lit cottage…the hushed tranquility of an old-growth forest…or a fleeting congregation of deer at the edge of a pasture. These are images that burrow into one's soul. They encourage us to explore and observe this mountain sanctuary during "the offseason," when the bustle of fall has subsided, replaced by a quiet splendor that is at once gratifying, yet ungraspable.
—
"For many of our homeowners, wintertime is the most rewarding season at Chinquapin. The views go on forever. And the snow has a way of making everything look new and alive. There's a deep sense of tranquility during the winter. There's also a lot to do: snow skiing, hiking, dining, shopping, or just reading a book by the fire. And the fact that we offer premier real estate near Sapphire Valley Ski Resort is an added bonus."
— Katie Nicholson, Land Consultant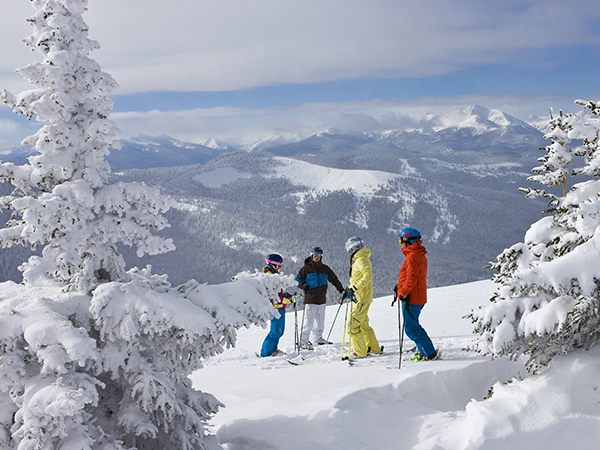 Six Great Winter Activities in Cashiers Highlands
Snow Skiing
With an elevation near 4,000 feet, Cashiers is the perfect altitude to beat the heat in summer and enjoy the slopes in winter. Just a few minutes from downtown lies the Ski Sapphire Valley Resort—a favorite for families, regardless of age or experience on the powder. In addition to skiing, Sapphire offers snowboarding, tubing, and winter zip lines. Ski Sapphire Valley has a complete rental shop with boots, skis, boards, helmets, and ski poles.
Hiking
For many people winter is the best time to go hiking. There are fewer people on the trails and the quiet stillness of the landscape portrays a stark beauty that is absent the rest of the year. The entire region is imbued with cascading waterfalls, scenic ridge lines, rhododendron-filled forest paths, and sweeping views that seem endless during winter.
Shopping
The Highlands-Cashiers plateau boasts some of the finest shopping in Western North Carolina. A number of charming boutiques and curio shops sprinkle both towns and invite shoppers all the year round. Winter is often the time of year to find the best deals and the lack of crowds makes it easy to linger and stroll at will at the shops of your liking.
Bascom
Located on a former horse farm, The Bascom Center for the Visual Arts in Highlands is a favorite attraction for children and adults, offering high-quality (and rotating) visual art experiences that inspire and teach. The park-like setting features a six-building complex—with thousands of square feet of exhibit space—on six acres of land, complete with a meandering stream.
Ice-Skating
Perhaps there is no more gloriously romantic winter activity than ice-skating: under the boundless Western North Carolina sky, with the crisp chill of the holidays lingering in the air, and the sound of laughter blending with the music of skates on ice. The Highlands ice-Skating Rink is a wonderful family escape—for beginners and seasoned skaters, for the young and the young at heart.
Dining
Like shopping, dining is a year-round pursuit in the Cashiers-Highlands region. From small boutique cafes offering eclectic fare…to four-star fine-dining cuisine, the variety of culinary options is staggering. For their size, Highlands and Cashiers offer up a delectable offering of restaurants that rival much larger urban settings. Best of all, many are open all year long, presenting a greater chance of securing your favorite table during winter.
—
A year-round retreat for homeowners
Each season atop the Highlands-Cashiers plateau is adorned with its own unique beauty—the lush greenery of summer…the resplendent spectacle of fall leaves…the hushed serenity of winter…and the ever-resurgent glory of spring. Each successive month is bathed in a tranquility that astounds the eye and enriches the soul. Located square along the Eastern Continental Divide, this region has been attracting visitors for years, lured by the four-season climate, higher elevations (3,000 – 4,000+ feet), forested mountains, and an endless array of waterfalls, creeks, rivers, and lakes. If ever there were a natural mountain paradise, this is it. To top it off, the area features two of the most charming and sought-after mountain towns in the southeast: Highlands & Cashiers.
Highlands-Cashiers Plateau – Climate Facts
Average snow per year: 9 inches
Average days of sunshine: 212
Summer temps: July is 78°
Winter low is 25°
Drive Times from Southeastern Cities:
Greenville, SC – 1.5 hours
Atlanta, GA – 2 hours
Charlotte, NC – 3 hours
Columbia, SC – 3 hours
Nashville, TN – 5.5 hours
—
Chinquapin: a conservation community at the center of it all
You can enjoy your own private home near Sapphire Valley Resort. Located in the heart of the Highlands-Cashiers Plateau, Chinquapin is an amenity-rich, family-centered conservation community that allows you to live graciously and abundantly. It's all here: timeless fun in an ancient, yet ageless setting. Each day grants you the possibility of new wonders, both inside our gates and in the extended Cashiers' community. Come experience it for yourself. Schedule a personal Discovery Tour or call us today.
---
Meet Me In The Middle: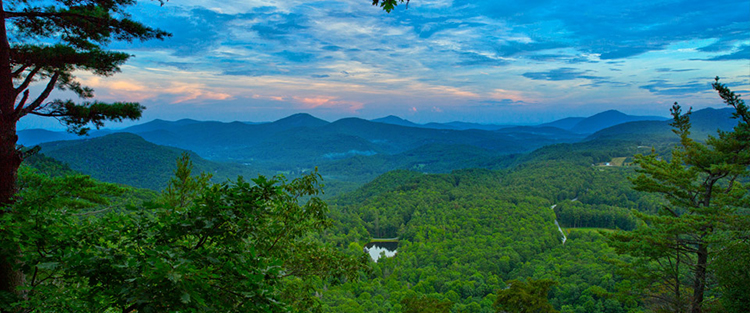 Why so many northern and Florida families are buying homes in Western North Carolina
As the old joke goes: there are more northerners down in Florida than there are up north. But recent trends with second-home and retirement-home buyers call that theory into question. In the past decade, more and more homeowners from up north are stopping short of Florida, in the magical mountains of Western North Carolina. Even more surprising, Floridians are leaving Florida and heading north to settle in the same Blue Ridge Mountain chain.
According to a New York Times article ("Heading South, but Stopping Short of Florida"), many northerners who initially intended to migrate to Florida for retirement are instead coming to places like the Carolinas. Similarly, a recent article in the Wall Street Journal ("Forget Florida: More Northern Retirees Head To Appalachia") found that the "half-back" phenomenon is real: northern transplants to Florida are retiring in mountain communities half-way up the east coast in Western North Carolina communities like Cashiers, Highlands, Asheville, Blowing Rock, to name but a few. The question begs, Why? What is driving so many Floridians and northerners to converge in the middle, in the ancient Blue Ridge Mountains? As Marty Stefanelli, former New Yorker-turned-Floridian-turned-Appalachian explains, it's the combination of moderate weather, a lack of traffic, and low cost of living.
"Western North Carolina is ideal for many reasons. It has great weather, it has beautiful mountains, charming towns, unlimited outdoor recreation, and access to big cities and great healthcare. It truly is an ideal launching point for anyone, whether you're a retiree or simply looking for the perfect vacation home. It has it all."
Will & Mark Adkins, Real Estate Experts
Co-owners, Waterfront Group
Three Reasons East Coast Americans Are Settling In The Carolina Mountains Four-Season Climate
In Western North Carolina, you don't have the cold winters of New York or the stifling summers of Florida. The summers in WNC here are pleasant and invite outdoor activity, the winters mild and manageable. There are also four distinct seasons, each with their own appeal: whether it's the heaven-sent breezes of spring…the multihued splendor of fall…or the still, snow-draped hills of winter. Each season in Western North Carolina has a majesty and beauty that is inviting.
Less Traffic, More Nature
If the threat of winter or tropical storms doesn't scare you away from the north and Florida respectively, then the traffic sure will. There has been a disproportionate rise in congestion and urbanization in major northern cities as well as in Florida. And there is no bigger buzz kill than stand-still traffic. Unless it's the overcrowded city grind or exhaust fumes or lack of parking. In Western North Carolina, nature still reigns supreme and stretches out far and wide to give you plenty of room to smell rejuvenating, pine-scented air.
Affordable Lifestyle
Nothing is getting cheaper in Florida or up north. It's like both east coast poles are in a constant tug-of-war to see which can win the race for highest cost of living. As Steffanelli tells the Wall Street Journal, he now pays about $3,000 in taxes for his Blue Ridge Mountain home, versus the $20,000 he was paying for his home in Florida. And he still maintains a home in New York that costs him roughly $30,000 per year in taxes. Not only is the half-back option more appealing for its climate and pristine beauty, but it also costs a lot less to live.
Discover Chinquapin: Where nature's playground intersects with the ultimate mountain town
Chinquapin offers itself as your family's own personal playground, set amidst the majesty and splendor of the Blue Ridge Mountains. Yet three miles away lies the charming downtown of Cashiers North Carolina, called "the heart of the Blue Ridge Mountains." This is truly the best of both worlds. Backing up to Panthertown Valley in the Nantahala Forest—and just eight miles from beautiful Lake Glenville—Chinquapin encompasses 2,000 acres of pristine land for hiking, fishing, ATV-ing, and biking. Just outside the gates, a world of dining, shopping, and family-centered entertainment. This is mountain living on your terms.
Schedule A Discovery Tour
Isn't it time you experienced it for yourself? Schedule a personal Discovery Tour or call us today at 866-370-0867.
---
Chinquapin is the perfect fit for the Tuckers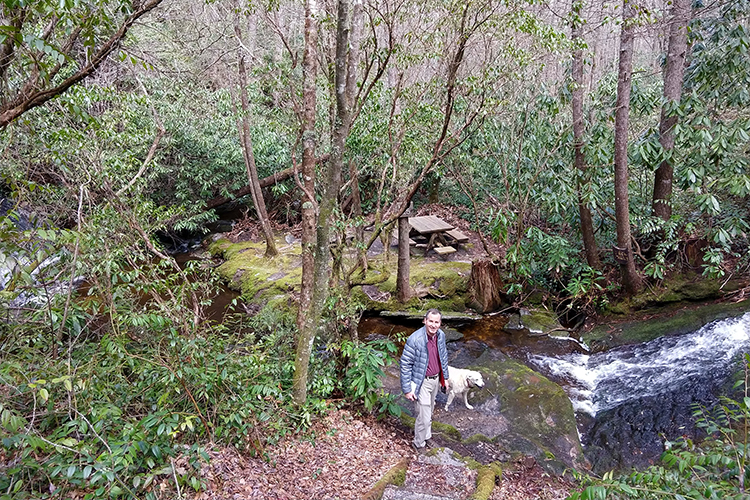 Coming all the way from Austin, Texas, Ellen and Mike Tucker get asked one question over and over again: how did you discover Chinquapin? Answer: by accident. "Although I grew up in Camden," says Ellen, "we didn't really explore the Western North Carolina Mountains until fairly recently. We had already been looking all over the country for a mountain home: California, Colorado, places like that. But around five years ago we started looking more closely along the east coast. It was then that we stumbled upon Chinquapin by mere chance."
Turns out Mike and Ellen were exploring the celebrated Highlands/Cashiers Plateau when they suddenly happened upon the Chinquapin Sales Office. "We were just driving along and the road took us right by Chinquapin. We decided to go into the office and we spoke with their sales person, Katie, who was very relaxed, not salesy at all. She answered our questions, took us on a tour, and even went hiking with us. By the end of the hike, Mike and I looked at each other and realized, we hadn't just found a mountain vacation spot, we had found our home."
The perfect balance
That's the effect that Chinquapin often has own families. Love at first site is not uncommon when you think of what the community offers: a beautifully preserved private mountain setting, with 4,000 feet of elevation, yet just three miles from Cashiers, in the heart of Western North Carolina. This is a community that gives families all the privacy they long for, with quick access to fine dining, shopping, and entertainment. For anyone looking for a mountain retreat that provides solitude and culture in equal measure, Chinquapin delivers. It truly captures the best of both worlds. "The fact that Chinquapin is a conservation community was very important to us. It spoke to the values and priorities of the developers. We love that commitment to nature, but we also love the sense of community and connectedness we felt right away with other homeowners. That bond, along with the fact that Cashiers is just right down the road really won us over. We also love the fact that this area is just a short drive to Atlanta, which gives us easy access to anywhere, really, with the international airport."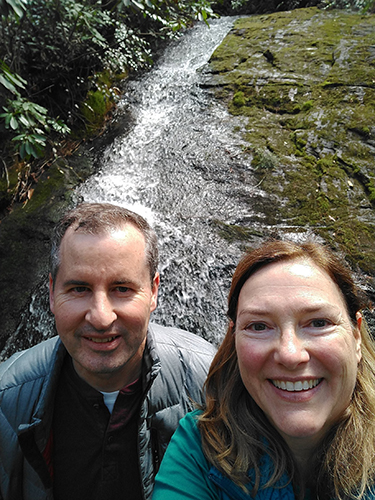 Right at home
The Tuckers bought their homesite at Chinquapin in 2016. They are currently building their dream home, which is located on a gorgeous piece of land, some 4,100 feet up. But already, they feel like regulars. "It has taken us no time to fit in here—it was instantaneous. There is a genuine sense of community here, both at Chinquapin, and also in the town of Cashiers. This is the perfect place for our family to gather with other families and friends who share the same love of nature and interests. At the end of the day, Chinquapin just felt right. It feels like home, not a vacation house. We can totally be ourselves up here—active and social, or quite and contemplative. We get to have it all."
Come Discover Chinquapin
This is the ultimate mountain escape.
Schedule a personal Discovery Tour or call us today at 866-370-0867.
---
For the Bleckley's, Chinquapin is all about family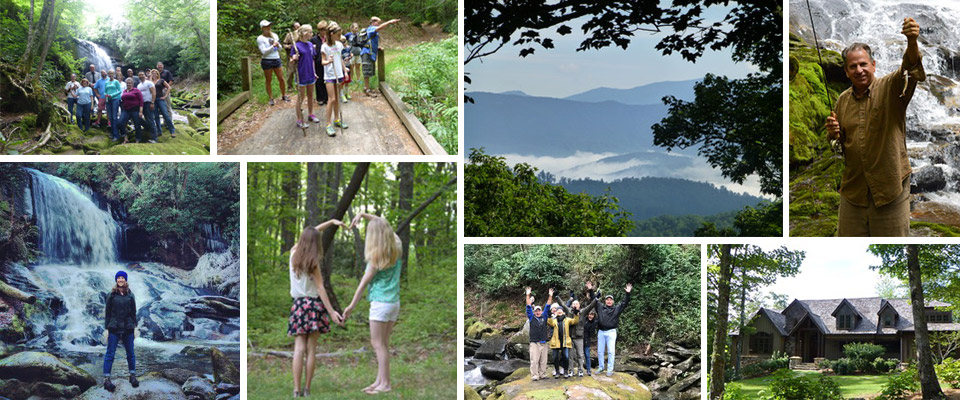 Missy Mandell Bleckley loves to entertain. She especially likes it when company comes to stay for a few days. That includes friends, as well as family. "We once had 26 people staying here at one time—that's the record," she says. Missy and her husband, JB, who have been living in the Austin Texas area, bought their mountain dream home at Chinquapin six years ago. And although they were somewhat familiar with the area—JB's father was raised near Betty's Creek, Georgia—their quest for a second home spanned the entire country, including beach property, as well. "We looked at Holden Beach," says Missy, "and Santa Fe, but we felt drawn to the Western North Carolina Mountains. We were at a wedding in Asheville a while back and explored that area, and eventually made our way to Highlands and Cashiers."
Love at first sight
The Bleckleys took to the celebrated Highlands-Cashiers Plateau right away, drawn in by the combination of small-town mountain charm and natural, scenic beauty that abounded on all sides. "The entire is area is just beautiful," says Missy. "There's great elevation. Lots of water—streams, lakes, creeks, rivers. There's abundant hiking and outdoor recreation. And then you have these great little mountain towns. We love Cashiers." As taken has Missy and JB were with the area, they were even more impressed with Chinquapin. "We loved it the moment we saw it," Missy says. "It was breathtaking, like a private mountain paradise in the middle of a larger mountain paradise. JB and I really like the fact that a third of the property is in conservation. That shows the commitment of the developers to preserve Chinquapin for the future—keeping it pure and pristine."
A place to treasure—and share
Missy and JB love to entertain. Not simply an occasional dinner party here and there, but entertaining friends and family for days on end. "We have a large house up here with lots of rooms," Missy says, "because we wanted this to be a place where we could gather for holidays and weekends, and over the summer. It's not unusual that we have three generations of family up here at one time—in fact it happens quite often. There's plenty of space for everyone. The babies are in the cribs and the teenagers like to 'camp out' on the deck." And when it comes to entertaining their guests and keeping everyone happy, that's no trouble at all, thanks to the variety of amenities and activities at Chinquapin. "This is the type of mountain house—and Chinquapin is the type of community—that everyone wants to come visit," she says. "There's so much to do on the property, from hiking and fishing, to camping and exploring. And if the teenagers want to get away for a while, you have Cashiers just three miles down the road. There always something here that appeals to everyone, young or old, no matter what time of year. This is like four-season permanent vacation for anyone and everyone who wants to visit."
Come Discover Chinquapin
Within this preserved community is an amenity-rich, family-centered living experience that allows you to live graciously and abundantly. It's all here: timeless fun in an ancient, yet ageless setting. Each day grants you the possibility of new wonders, both inside our gates and in the extended Cashiers' community. Come experience it for yourself. Schedule a personal Discovery Tour or call us today.
866-370-0867
---
"The very first time I visited Chinquapin, it was love at first sight. It has everything I ever dreamed of in a vacation or retirement home; a commitment to preserving the natural beauty of the environment, miles of hiking trails, beautiful waterfalls. The community stable that will allow me to bring my horse from time to time and trail ride for miles, was just the icing on the cake.
Buying our lot at Chinquapin will enable us to be good stewards of the land and be a part of helping to preserve one of God's masterpieces for future generations to enjoy. I love owning a "little piece of heaven on earth" at Chinquapin."
---
"As I write these comment, it is 105 degrees in the shade in Austin, Texas. We can't wait to get back to our beautiful place in the Chinquapin community of Western North Carolina
We don't live there full time but we spend as much of the year there as we can, especially during the hot summer months. It is so cool at Chinquapin we have never had to turn the air conditioner on at our house!
We have gotten to know our neighbors, and not only do we enjoy each others company but everyone 'has our back.'
We bought our home to be closer to family and Chinquapin is perfect for family gatherings…and the closer together than it's ever been. We always have family and friends visiting us, from all over the United States and Europe, and there is never a shortage of activities, no matter the age or interest. The views and natural beauty can't be beat. There is nothing more relaxing than sitting on the deck in your rocking chair, watching a beautiful sunset.
The many miles of hiking and biking trails are always a big hit, no matter your level of activity. And we often catch trout from one of the ponds on the property for dinner. The property is beautifully maintained and it's clear there is a great deal of pride and commitment to nature by the management team.
We are so lucky to have found Chinquapin."