Chinquapin is the perfect fit for the Tuckers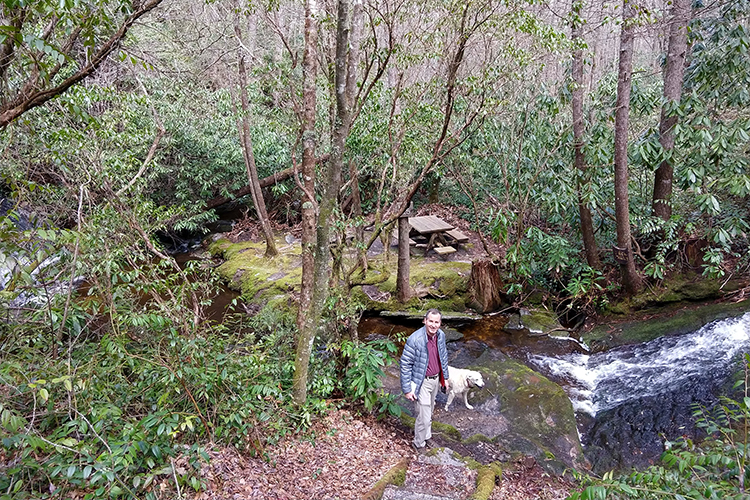 Coming all the way from Austin, Texas, Ellen and Mike Tucker get asked one question over and over again: how did you discover Chinquapin? Answer: by accident. "Although I grew up in Camden," says Ellen, "we didn't really explore the Western North Carolina Mountains until fairly recently. We had already been looking all over the country for a mountain home: California, Colorado, places like that. But around five years ago we started looking more closely along the east coast. It was then that we stumbled upon Chinquapin by mere chance."
Turns out Mike and Ellen were exploring the celebrated Highlands/Cashiers Plateau when they suddenly happened upon the Chinquapin Sales Office. "We were just driving along and the road took us right by Chinquapin. We decided to go into the office and we spoke with their sales person, Katie, who was very relaxed, not salesy at all. She answered our questions, took us on a tour, and even went hiking with us. By the end of the hike, Mike and I looked at each other and realized, we hadn't just found a mountain vacation spot, we had found our home."
The perfect balance
That's the effect that Chinquapin often has own families. Love at first site is not uncommon when you think of what the community offers: a beautifully preserved private mountain setting, with 4,000 feet of elevation, yet just three miles from Cashiers, in the heart of Western North Carolina. This is a community that gives families all the privacy they long for, with quick access to fine dining, shopping, and entertainment. For anyone looking for a mountain retreat that provides solitude and culture in equal measure, Chinquapin delivers. It truly captures the best of both worlds. "The fact that Chinquapin is a conservation community was very important to us. It spoke to the values and priorities of the developers. We love that commitment to nature, but we also love the sense of community and connectedness we felt right away with other homeowners. That bond, along with the fact that Cashiers is just right down the road really won us over. We also love the fact that this area is just a short drive to Atlanta, which gives us easy access to anywhere, really, with the international airport."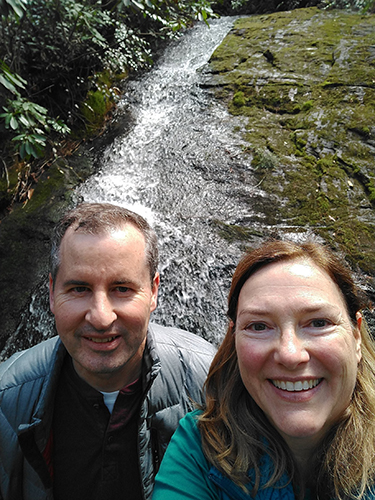 Right at home
The Tuckers bought their homesite at Chinquapin in 2016. They are currently building their dream home, which is located on a gorgeous piece of land, some 4,100 feet up. But already, they feel like regulars. "It has taken us no time to fit in here—it was instantaneous. There is a genuine sense of community here, both at Chinquapin, and also in the town of Cashiers. This is the perfect place for our family to gather with other families and friends who share the same love of nature and interests. At the end of the day, Chinquapin just felt right. It feels like home, not a vacation house. We can totally be ourselves up here—active and social, or quite and contemplative. We get to have it all."
Come Discover Chinquapin
This is the ultimate mountain escape.
Schedule a personal Discovery Tour or call us today at 866-370-0867.
For the Bleckley's, Chinquapin is all about family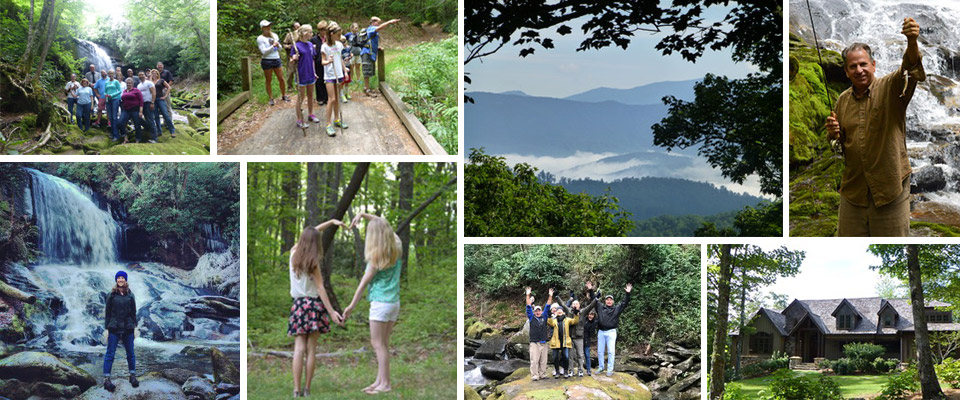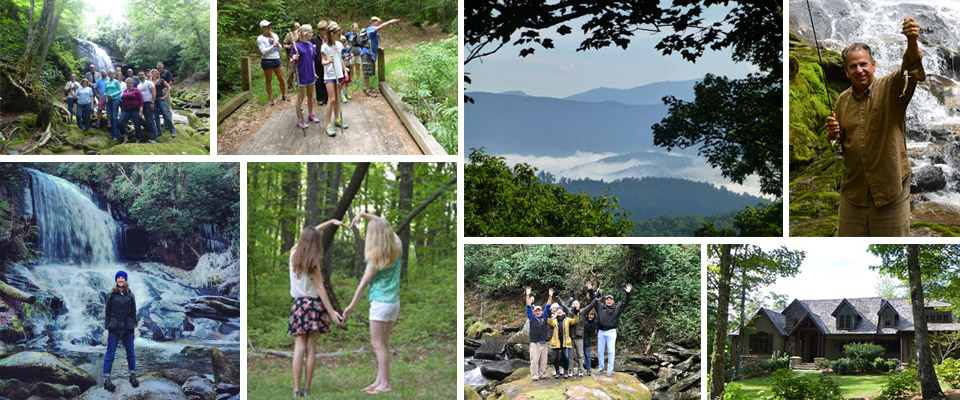 Missy Mandell Bleckley loves to entertain. She especially likes it when company comes to stay for a few days. That includes friends, as well as family. "We once had 26 people staying here at one time—that's the record," she says. Missy and her husband, JB, who have been living in the Austin Texas area, bought their mountain dream home at Chinquapin six years ago. And although they were somewhat familiar with the area—JB's father was raised near Betty's Creek, Georgia—their quest for a second home spanned the entire country, including beach property, as well. "We looked at Holden Beach," says Missy, "and Santa Fe, but we felt drawn to the Western North Carolina Mountains. We were at a wedding in Asheville a while back and explored that area, and eventually made our way to Highlands and Cashiers."
Love at first sight
The Bleckleys took to the celebrated Highlands-Cashiers Plateau right away, drawn in by the combination of small-town mountain charm and natural, scenic beauty that abounded on all sides. "The entire is area is just beautiful," says Missy. "There's great elevation. Lots of water—streams, lakes, creeks, rivers. There's abundant hiking and outdoor recreation. And then you have these great little mountain towns. We love Cashiers." As taken has Missy and JB were with the area, they were even more impressed with Chinquapin. "We loved it the moment we saw it," Missy says. "It was breathtaking, like a private mountain paradise in the middle of a larger mountain paradise. JB and I really like the fact that a third of the property is in conservation. That shows the commitment of the developers to preserve Chinquapin for the future—keeping it pure and pristine."
A place to treasure—and share
Missy and JB love to entertain. Not simply an occasional dinner party here and there, but entertaining friends and family for days on end. "We have a large house up here with lots of rooms," Missy says, "because we wanted this to be a place where we could gather for holidays and weekends, and over the summer. It's not unusual that we have three generations of family up here at one time—in fact it happens quite often. There's plenty of space for everyone. The babies are in the cribs and the teenagers like to 'camp out' on the deck." And when it comes to entertaining their guests and keeping everyone happy, that's no trouble at all, thanks to the variety of amenities and activities at Chinquapin. "This is the type of mountain house—and Chinquapin is the type of community—that everyone wants to come visit," she says. "There's so much to do on the property, from hiking and fishing, to camping and exploring. And if the teenagers want to get away for a while, you have Cashiers just three miles down the road. There always something here that appeals to everyone, young or old, no matter what time of year. This is like four-season permanent vacation for anyone and everyone who wants to visit."
Come Discover Chinquapin
Within this preserved community is an amenity-rich, family-centered living experience that allows you to live graciously and abundantly. It's all here: timeless fun in an ancient, yet ageless setting. Each day grants you the possibility of new wonders, both inside our gates and in the extended Cashiers' community. Come experience it for yourself. Schedule a personal Discovery Tour or call us today.
866-370-0867
---
"The very first time I visited Chinquapin, it was love at first sight. It has everything I ever dreamed of in a vacation or retirement home; a commitment to preserving the natural beauty of the environment, miles of hiking trails, beautiful waterfalls. The community stable that will allow me to bring my horse from time to time and trail ride for miles, was just the icing on the cake.
Buying our lot at Chinquapin will enable us to be good stewards of the land and be a part of helping to preserve one of God's masterpieces for future generations to enjoy. I love owning a "little piece of heaven on earth" at Chinquapin."
---
"As I write these comment, it is 105 degrees in the shade in Austin, Texas. We can't wait to get back to our beautiful place in the Chinquapin community of Western North Carolina
We don't live there full time but we spend as much of the year there as we can, especially during the hot summer months. It is so cool at Chinquapin we have never had to turn the air conditioner on at our house!
We have gotten to know our neighbors, and not only do we enjoy each others company but everyone 'has our back.'
We bought our home to be closer to family and Chinquapin is perfect for family gatherings…and the closer together than it's ever been. We always have family and friends visiting us, from all over the United States and Europe, and there is never a shortage of activities, no matter the age or interest. The views and natural beauty can't be beat. There is nothing more relaxing than sitting on the deck in your rocking chair, watching a beautiful sunset.
The many miles of hiking and biking trails are always a big hit, no matter your level of activity. And we often catch trout from one of the ponds on the property for dinner. The property is beautifully maintained and it's clear there is a great deal of pride and commitment to nature by the management team.
We are so lucky to have found Chinquapin."